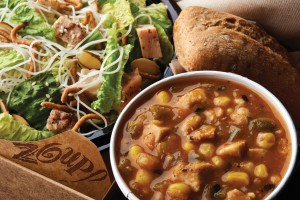 What is your favorite soup?
Don't know?
Visit the folks at Columbia Tech Center's newest eatery, Zoup!
Zoup!, located at 1401 SE 164th Avenue, is a fast-casual dining franchise offering 12 different rotating soup options each day and the best part is you can taste-test them all. They even encourage it! Each day the menu features low-fat, dairy-free, gluten-free, and vegetarian options.
"We will always have healthy food. In our diets today, we consume so much sugar and so much processed food, but at Zoup! we have a product that is fresh, and I think that's what people are looking for," says franchise owner, Michael Reid.
"This is just a really good product.
                             It's something we can be proud of."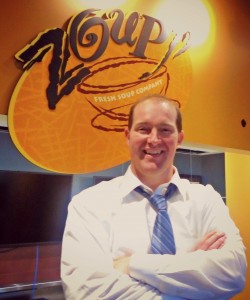 After practicing law with a local firm for 21 years, Reid recently left to start his own law practice and to open a restaurant. "That was always the plan, to open both at the same time. It is a lot going on, but I am enjoying it."
After a lot of research to find the perfect franchise opportunity, Reid found Zoup!, who had just opened their first restaurant in the Portland area. Zoup! was interested in expanding their presence into Vancouver and, the more Reid learned about Zoup!, the more excited he became.
"This is just a really good product. The soup is really good. And, I say that to everybody, but when you try it, you'll see. It is really good soup!," says Reid. "It's something we can be proud of."
So, what is the favorite soup of a Zoup! restaurant owner? "I've thought long and hard about that and I've tried a lot of different soups. A lot of folks would say the lobster bisque or the chicken pot pie, which are excellent. My favorite, though, is the wild mushroom bisque," says Reid. "But, we will have something for everyone. Do you want a chili? We've got that. Do you want a cheese soup? Well, we've got that, too. Because of our hundreds of recipes, you could come in every day of the week and never get the same menu."
                                                 "We have so many recipes and yet are
    constantly trying to improve on what we're making."
One may wonder how Zoup! creates the hundreds of delicious soup recipes they sell in their restaurants. Do employees submit their own favorite recipes?
"Yes, but why just employees? Why stop there? On the website, we often have contests and ask for submissions," says Reid. "For example, last fall Zoup! held a contest to ask our customers to submit their favorite soup recipe. I think the butternut squash bisque was the winner of that competition, and now it is on the menu! It's pretty popular. We have so many recipes and yet are constantly trying to improve on what we're making."
Reid and his family have been a part of the Vancouver community for over 20 years and certainly love living and working here. "The schools are fabulous and the neighborhoods are really great. My law office, now, is in downtown Vancouver. I love getting out and walking the streets. I walk a ½ mile from my office to the courthouse, all the time," says Reid.
"Vancouver is big enough that it is well supported
and small enough that it feels like a
family-oriented community."
"We don't have quite the same bustle of Portland, yet Vancouver is urban enough and big enough that it is well supported, but without the traffic. And, it is small enough that it still feels like a family-oriented community."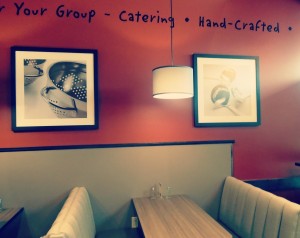 When looking for a location to set up his new Zoup! franchise, Columbia Tech Center seemed like the ideal choice as there are so many businesses and retail outlets in the area. Zoup!'s target market is the lunch hour crowd. "If people on the east side of town want to get some food, they come here off of Mill Plain and 164th," says Reid. "The location is turning out to be even better than we expected," says Reid, "a­nd it doesn't hurt that my family and I just live up the street!"
Reid, though, is most excited about interacting with the community and his customers. "When people come to Zoup!, they meet our friendly employees who are talking to people and helping them enjoy the time they're here," says Reid. "Which is wonderful, but it is only part of what we do. The other part, is reaching out to the community."
Before the restaurant opened, Zoup! employees began talking to the neighboring Columbia Tech Center businesses and handed out tickets offering a free lunch. "This allowed us to get to know our neighbors, let them know we are here and, when people redeemed their lunch coupons, gave our staff the opportunity to practice handling a lunch rush."
The night before Zoup!'s opening, they held a fundraiser for Mountain View High School and Union High School. All of the restaurant's proceeds were donated to the schools' music programs.
"The soup brings people in, but the
Zoup! experience brings people back."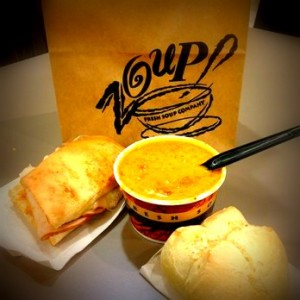 Reid heartily believes in the entire Zoup! environment. "It is really friendly. The soup brings people in, but the Zoup! experience brings people back. It's a great environment and I love the values of the franchise."
Zoup! is a close-knit family and, for Reid, family comes first. "You get to choose your friends, but your family is where you come from and it is where you are going. So in both directions, it's how we can have an impact in this world: by having a good family and teaching our kids good values."
One of the most important values Reid has learned is that practice makes perfect. "If you want to be efficient at something, and it doesn't matter what it is, you've got to practice. And, if you do practice, if you put time into developing a skill, you will be able to achieve it. I think that is a really important lesson," says Reid.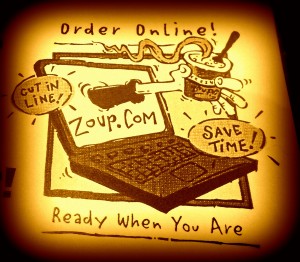 First a mathematician, then a lawyer and now a restauranteur, it is clear that Reid is good at putting his mind to developing new skills, but what will Reid be doing 10 years from now?
"Hopefully, I'll be selling soup! We will see how this franchise does, but I would like to say that we would have another franchise. That is a goal, but we will take it one restaurant at a time… practice makes perfect," says Reid.
For more information about Zoup!, please visit: