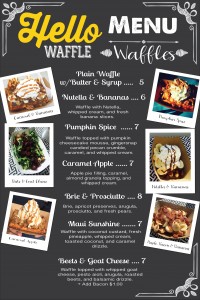 A new food cart has joined the stellar line-up at CTC! Hello Waffle will be at the food truck site this Saturday, October 24 from 8am – noon (see the map below to find the spot).
Seriously…can you think of a better way to start a busy day of errands, sports and shopping than with the best waffles ever?!? And so many choices!
Also, remember that Getta Gyro will be here tomorrow, Friday, October 23 from 11am – 2:30pm so stop by and kick off your weekend with some good eats!
Friday, October 23
11am – 2:30pm
Getta Gyro – Greek