10 Questions with Westface Financial
Fall is here, the kids are back in school and many parents are grappling with the thought of how they will afford to send their child to college. If this sounds familiar, join us as we meet with Beatrice K. Schultz of Westface Financial and Westface College Planning, one of Columbia Tech Center's newest neighbors. Beatrice and her partner, Mark Guthrie, help families see their financial big picture and find ways to make college affordable.
Who is Westface Financial?

At Westface Financial, we are licensed to provide advice on financial investments and on insured financial products such as life insurance, disability, and long-term care. Our philosophy focuses less on markets and investments and more on being efficient with one's money. It is our endeavor to educate our clients and help them to understand their full financial picture. We analyze earnings, expenses and savings finding wealth transfers to put money back in our clients' hands.
Our main expertise, though, is college financial planning, and Westface College Planning is the part of our business specifically focused on the financial aspects of planning for and paying for college.
Why did you start your own financial planning firm?
Mark and I are both certified financial planners with 35 years in the business. We worked in corporate jobs for 25 years and then opened our practice 10 years ago. We wanted to help people and to do something that we could feel good about.
Paying for college is an issue that so many people face and is a big part of financial planning. It is a time when people want help understanding their options. Our goal is that everyone who comes into our office can walk away having learned something useful. Plus, it is so much more interesting at a cocktail party to say that I am a college financial planner. Everyone has a story and wants to know more!
When should parents start thinking about college financial planning?
As soon as you feel like you are ready to start saving for college, it's time to start putting together a plan, but ideally, by the time your student is in grade nine. Most people begin thinking about it when their kid is in middle school but are ready to take action in high school. The very first step may be asking the question: 'What schools do I want to encourage my kids to apply to?' As a parent, you want to set expectations. We also really encourage the kids to get involved and to understand how much their education will cost.
What is one of the most important aspects of financial planning?
It is important to remember that, when discussing college costs, it is more than just tuition – it is the cost of attendance. For example, $10,000 a year in tuition may actually cost a family $30,000 a year after adding items such as room and board, fees, textbooks, and meal plans.
We have a lot of passion around financial literacy for families. One of the things we do is take the numbers and convert them into pictures. This way, clients can actually see their financial picture and feel good about the ways their money is working for them. Addressing how clients intend to fund college is a key area of financial education.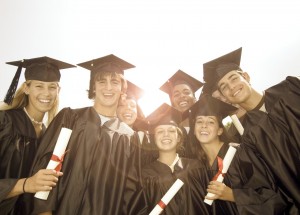 How do you connect with your clients?
We offer workshops, presentations and webinars. I also previously hosted a podcast called College Smart Radio about tackling the runaway cost of college, which you can find on our website.
We also offer 45 minute complimentary consultations during which we ask questions about potential clients' financial picture and explain the financial planning process. We want every one of those families who don't have a lot of money to take advantage of these consults, however, many of them don't. They know they're not going to hire us so they feel they can't come in for the free info.
Why are workshops so important to you and your firm?
Workshops allow us to reach a wider audience. When we go to a high school to give a talk, we want everyone to walk away and learn something. We want to make sure that the people in the audience who really don't feel they have enough income but want to go to college, walk away and say 'maybe this is possible.'
In addition to reaching families who are struggling with college financing, these presentations also reach families who aren't as challenged financially, but it is just as important for them to be vigilant about their college financial planning. Maybe you are getting money from grandma, but it is still important to have a plan.
What do clients generally struggle with? How are you able to help your clients?
When paying for college, having access to one's money is important. Many clients have the money, but it is tied up in the equity of their home or retirement accounts. In this situation, we might say, 'Instead of borrowing another $50,000 – which means you are borrowing against your retirement anyway – maybe the solution is to not contribute to that 401k, where you won't have access to it. Instead, put that money somewhere where it is available to you.' These are the hard choices.
Another part of having access to money once you are ready to pay for college is choosing the right loans and financial aid options. Many families believe they don't qualify for need-based financial aid, but they do. Or they may not understand that school selection can make a difference in how much they pay. Every college has different rules, so we can help parents by saying, 'Based on your financial picture, you should apply to these schools instead of these because they offer the right kind of aid for you.'

You recently moved to Vancouver from the Bay Area in California. What drew you to Vancouver?

From an economic perspective, we like that Vancouver is a growing area and that it has the right demographic for our business: families with high school aged kids. We love that we can run and bike from right outside the front door, work 10 minutes away from where we live and are close to the airport, which is a big factor for us. We've already hired great people to work for our company and just love that the area is full of really nice people.
When you were looking at Columbia Tech Center, what did you like?
The building is very modern, clean, and full-service, which is just a treat. Plus we are perfectly located in the middle of restaurants and other services. I just joined 24 Hour Fitness, which is great, because it's right here and so convenient. We are excited to be a part of Columbia Tech Center and are looking forward to getting to know all the other businesses, friends and clients in the community.
What would you like for CTC community to know about Westface Financial?
We would really love an opportunity to share our message with the community. We would love to connect with businesses who might be interested in having a brown bag lunch presentation or workshop. We also hope that Parent Teacher Associations (PTAs) will invite us to do lunch-and-learns related to educating parents in financial planning.
We are also looking for talented people in the community who are interested in joining our organization. We are very flexible on hours and would welcome someone interested in part time.