Amazon, the number one name in online shopping has more than 304 million active customer accounts worldwide and more than 107 billion U.S. dollars in net sales in 2015; 44% of shoppers go directly to Amazon when searching for a product online.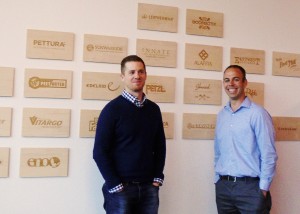 Considering that level of competition, how does one get their products in front of the right Amazon consumer? If you are a premium brand like Leatherman, Bob's Red Mill, or Nutcase Helmets, you team up with Vancouver-based Amazon retailer, NetRush.
Founded in 2006 by Brian Gonsalves and Chris Marantette, NetRush partners with top-quality brands and is the Amazon-focused conduit that top companies require.
Amazon is a large and powerful marketplace, but is also somewhat disruptive to a brand's identity. "The challenge for sellers is that there was really no control over their brand and how they wanted to be represented. We saw that we could actually make more of a difference by utilizing our knowledge and experience with e-commerce to really shape brands," says co-founder and CEO Gonsalves.
"When you are shopping on Amazon, 
everything
about the listing should give you confidence about what you are buying."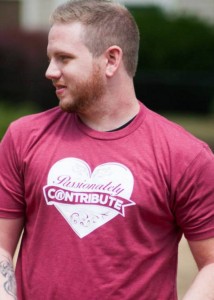 While NetRush has been a retail partner on Amazon since 2007, over the last three to four years, the company focus has become that of being a Contributor – a partner who adds value beyond just buying and selling products, and instead shares a brand's vision and respects its pricing policies.
"Our focus is on content. When you are shopping on Amazon, everything about the listing should give you confidence about what you are buying," says CFO and co-founder Marantette. "When you order from NetRush, our goal is to surprise you. What we try to do is make the buying experience always overwhelming, never underwhelming – in a good way. We want the customer to say, 'This is something I have confidence in and would probably order again.' We do this, not to represent NetRush, but to represent the brand we are selling. That's our thing."
NetRush works with companies that have a story to tell; something that defines them. "These are companies we can get behind, that care about their name and who they are and their history," says Marantette. Recently, NetRush has actually reduced the number of brands they work with by hundreds, instead, focusing their efforts on brand control, marketing, packaging, and overall customer experience.
The company is expecting sales to exceed
$100 million in 2016.

"If you get to choose the individuals you work with, you choose people who are passionate about what they do. Our growth depends on these partnerships that we form; our ability to give back to them; our ability to grow together, and be profitable together," says Gonsalves.
And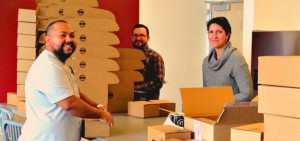 , boy, are they growing. Within the last two years, NetRush has doubled its workforce and seen revenue growth of 150 percent. The company is expecting sales to exceed $100 million in 2016.
In December 2015, NetRush celebrated their growth by moving into a large, modern space in Columbia Tech Center (CTC) in Vancouver, Washington. The space has room for a staff of 72, a large conference room, a reception area, and 7 breakout rooms. "There is a lot of open space – we are a collaborative company- but at the same time, you have the ability to get out and get away. There are no offices here. We all sit together, which is intentional, but we wanted employees to be comfortable, too," says Marantette.
NetRush had previously undergone three remodels to their old offices before searching out a new workspace. Gonsalves and Marantette had three objectives when looking for new headquarters. First, could they afford it? Second, is it somewhere that employees would be happy working? And third, could they use it to show potential and existing partners what NetRush is all about? After looking around Vancouver for a few months, the decision to move to CTC was made.
"It is such joy having everyone come in,
being able to show people around,
to see their reactions."
"When we saw a sample space, we realized that CTC is, and can be, modern and functional. Now we have outdoor space, the ceilings are higher. The design is cleaner and leaner with big beautiful windows. We are just
waiting for the sun!" says Marantette.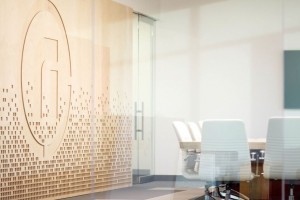 "It is such joy having everyone come in, being able to show people around, to see their reactions and listen to their comments. It is a cool spot. We didn't want to overdo it, spend too much money. There is a balance of quality and money, of not wasting our partners' money. And it's not in NW Portland. You thought you were there, didn't you?" says Gonsalves.
There are couches where you can grab your lap top, sit down, to get away from your desk. The close relationship NetRush has with its partners is evident by the hammocks. Suspended over Astroturf, near the breakroom, they are from one of NetRush's largest partners, Eagles Nest Outfitters.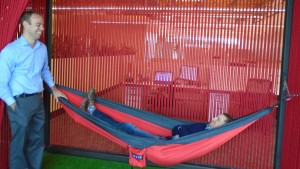 "We are very proud of them and wanted to make sure that they were represented in the space. There are also some Strider bikes hanging on the wall" says Marantette. "We want to make sure that our partners are represented; that we live and breathe these brands that are actually a part of our lives too.  It makes the work more enjoyable."
"It is rewarding being able to work with these great companies. We have more than a vendor/buyer relationship. We are partners. We've been welcomed into some of their homes. Our employees, as they learn the brands and get to know the individuals behind them, they are more driven to success," says Marantette.
The best thing about Vancouver, according to Gonsalves, is the family atmosphere. Creating a community is important. Creating collaboration among the businesses here creates trust. "We are excited about the park across the street. My kids' school is across the street. The hotel is close by for visiting clients," says Marantette.
"One of our values here is 'Passionately Contribute'
… because that is what we witnessed of our employees."
The best thing about NetRush, say the co-founders, is the culture and the people; the amazing passion and commitment that employees have for the brands and the company. "One of our values here is 'Passionately Contribute' but that isn't because of anything we said. It is because that is what we witnessed of our employees," says Marantette. "We have a pretty young crowd here, and I love watching people develop into who they are; into the professionals that they want to be. It allows us to step back and let them take over. It speaks for itself, what they do."
The customer service team, indeed, works very hard as evidenced by NetRush's 100% customer satisfaction rate on Amazon. Not something you see every day. "Less than 100% is unacceptable. Not just from our viewpoint, but that of the Customer Service team," says Marantette.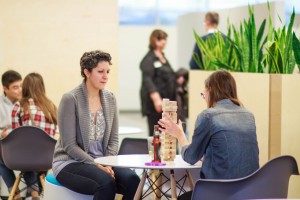 A few weeks ago, NetRush employees took the afternoon off and hosted a games challenge in the office. "Our staff loves to plan events and would be excited to help organize a CTC community event," says Marantette, "which helps us to get to know our neighbors."
CTC community, the gauntlet has just been thrown.
"To be able to do something as a community would be so great as we've got the park right here," says Gonsalves. "Who participates? Is HP going to come out of their office? We'll challenge Nautilus to a game."
I believe, CTC community, that the gauntlet has just been thrown.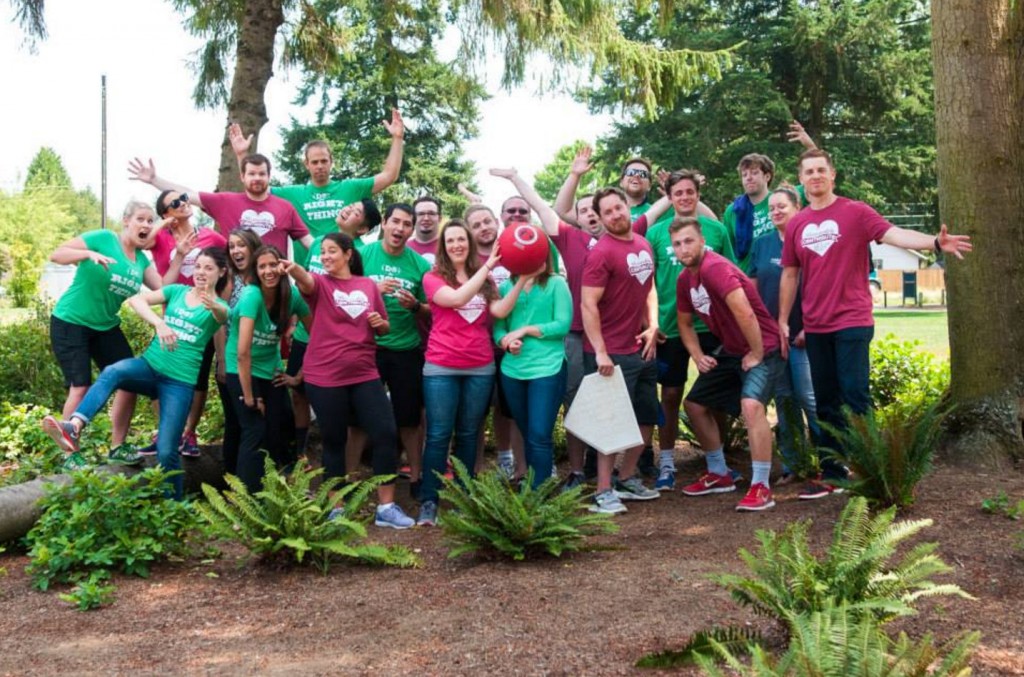 Photo Credit: NetRush PacTrust
For more information about NetRush, please visit: