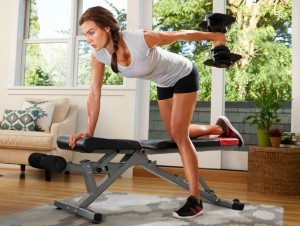 This November, we are excited to steal a few moments with Bruce Cazenave, CEO of Nautilus, Inc., the award-winning manufacturer of residential fitness equipment.
Congratulations on accepting the internationally recognized Red Dot – Best of the Best Product Design Award for the Bowflex SelectTech 560 Dumbbells. What makes this product so special?
Thank you and actually this is our second Red Dot Design Award. We received one for the MAX Trainer in 2015 and now one for the 560 Dumbbells. Nautilus' SelectTech Dumbbells, which have been on the market for eight years, are so inventive because they allow the user to input their desired lifting weight causing the dumbbell to only lift that amount of weight. Last year, we introduced the 560 model which takes SelectTech to a new level of interactivity. This is the smartest dumbbell in existence. Sensors in the dumbbells communicate with an app to track weight, count reps and sets, and provide video tutorials for more than 50 different exercises. It will even recommend exercises for whatever your fitness goal may be. It's like having your own personal trainer.
What is the most exciting thing your design team is working on right now?
It is hard to choose, but the one that has most people's attention is the High Velocity Trainer (HVT) that we'll be introducing in the second quarter of 2017. It uses similar technology to the MAX Trainer, but the platform provides high intensity interval training (HIIT). The interface coaches the user to perform a 20-second exercise, for example a bicep curl, then a 10-second break to get ready for the next exercise. This could be a fly or other upper body move, then another 10-second rest and so on throughout the set. You do that for four intervals each and that's a workout. The whole idea is that in 18 minutes you get a tremendous workout targeting strength building and cardiovascular improvement. Other than our 560 dumbbells, there hasn't been a lot of innovation in strength products in the industry. The HVT will be the first significant innovation in strength in a long time.
What is the next big trend in physical fitness?
Time compression really is one of the things we believe the fitness industry has to address. People just don't have the same time that they used to. We strive to provide products to people so they can track their activities and be motivated to stay with their product and their fitness regime – that is the goal. People start off with great ambition but, after the 2nd or 3rd month, interest starts to wane and they get interested in something else. So for us, the big thing is how to continue interacting with customers to engage and encourage them to stay with their fitness regime. Right now we are doing this through our virtual consoles and time-saving workouts – it's the beauty of the MAX Trainer and one of the reasons why it is so popular. It is a 14-minute workout – if you can last 14 minutes. The HVT is going to be an 18-minute workout. So, in the time it takes just to get in the car and go to the gym, you've already finished a really complete workout and are ready to hit the shower.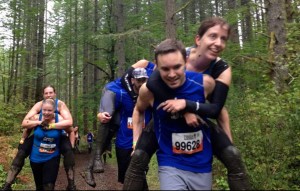 The Vancouver Business Journal named Nautilus one of the healthiest businesses of Southwest Washington. How are employees encouraged to incorporate physical fitness into their daily routine? 
One of the most unique things we do is offer the Wellness Passport, a program we started four years ago. Every employee gets a passport with their name on it and when you participate in an activity, you get a stamp in your passport. The activities could be anything from attending the Nautilus wellness fair, having a biometric screening, coaching their kid's soccer team, or going to a financial advisory class. The program is about more than just physical fitness; it aims to encourage overall wellness. If you get more than eight stamps in your passport one year –which isn't difficult- then the company will pay up to $150 of your healthcare expenses. Close to 80% of our employees participate in this program and it grows every year. It's something that is fun and helps our employees gain exposure to different activities.
We also have lunchtime kickball games during the summer and sponsor teams to participate in events like the Tough Mudder obstacle course. And we encourage people to walk with the Road to Wellness Program. Get in your steps!
What is your personal fitness routine or favorite exercise?
I like to run, but I am a fair-weather runner. If it is rainy or cold then I am probably on a treadmill or using our Octane Zero Runner at the gym here in our facility. I also use some of the strength training equipment in there. I am just looking to maintain my energy and fitness level for two reasons. First, so I can eat whatever I want to eat. That motivates me. Secondly, I want to maintain an active lifestyle later into life. I know that if I keep with my fitness and nutrition, it will allow me to enjoy my grandkids longer and other good stuff.
Do you have tips or tools for fitness beginners?
Yes. Tom Holland is our fitness advisor. I encourage everyone to go to Bowflexinsider.com where you can find all sorts of tutorials and informational content including exercise how-tos, recipes – you name it. That content is a key part of this whole formula.
What is the Nautilus Cares Program? What does the program do?
We try to find opportunities to support the community that supports us. The one I like to talk about the most is the Holiday Helper event that happens every December in cooperation with the Target on Mill Plain and 164th and the Vancouver Police Department. Every year, over 100 Nautilus employees go to Target at 5:30 a.m. on a Saturday or Sunday to assist 70-75 kids who are in distressed family situations. Most of the children have been removed from their families for a period of time and don't have the ability to shop for presents for themselves or their family members. The employees and officers escort the kids, who have been given $75 to purchase anything they want, through the store with shopping carts. Then, we wrap their gifts for them. The kids are always buying for their school friends, brothers, sisters, mom or dad, and that's really touching to see. You always have to ask them, "Is there something that you would like?" It is a great event.
Nautilus has been at Columbia Tech Center (CTC) for over a decade now but recently changed locations to a different building…
Yes, and two years ago, we realized we were outgrowing that building so we built an additional 30,000sf across the street – what we now call our Nautilus Innovation Center, commonly referred to as NIC. NIC is where we house our product development and engineering teams, lab facilities, and a retail store which we opened as part of the Innovation Center. I encourage everyone to visit to the store where the Award-Winning 560 Dumbbells and MAX Trainer are on display for people to use and to try. We use this store as a lab. We can interact with people and get their observations of our products, so it is a learning tool for us.
What does Nautilus enjoy about being in Vancouver/CTC?
A lot of good things are happening in Vancouver overall but certainly East Vancouver. There is something wonderful about being in a thriving area. There is new construction which means growth, and new tenant neighbors like Banfield Pet Hospital that just went up next to us. The development is also the environment: the trees, the walking paths, the parks, Lacamas Lake. It is a neat area from that perspective. There is a lot more residential going up too: condos, hotels, brew pubs. It's nice to be part of a thriving area – to see people walking around. And the school systems are good, which are certainly a plus when attracting employees from all over the country, not just the Northwest. There is a lot of positive activity.
Do you think there is a sense of community at CTC?
Yes, in fact Greg Goodwin of Kuni suggested that we get our teams together, along with the folks at NetRush and Banfield Pet Hospital, once every couple of months for a social hour to get everyone acquainted. It is just a subset of the folks here at CTC, but we figured we would start there and, who knows, it may be expanded later into a larger portion of the community. I know we are all in different industries but Nautilus has the mindset that we can always improve what we do. Now we can benchmark with some of these other successful companies that are literally within 100 yards from us and learn something from them. And I'm sure they can learn some things from us, too.