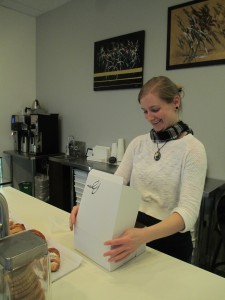 When entering the shop at 16500 SE 15th Street in Columbia Tech Center, the sugary scent of piping hot pastries invades your nostrils. In a beat, you're drawn to the clean, bright display of deliciously decadent cakes, croissants and confections.
"Hello! How are you? Are you hungry? What would you like to try?"
Delightful questions greet your ears. Your eyes shift in the direction of the welcoming greeting and behold the smiling faces of Baron Patisserie's owner and baker extraordinaire, Baron Kim, a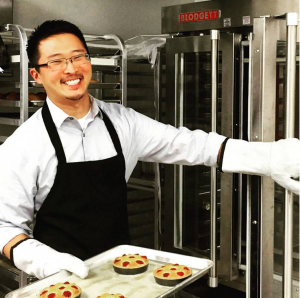 nd his lovely fiancée and business partner, Brianne Baldwin.  You've found it. Baron Patisserie – a respite from the wet, dreary, Vancouver drizzle. Your mouth begins to salivate as your stomach dances in delight and anticipation.
First, the cheesecake: It is dainty and golden, and perfectly proportioned for two, the graham cracker crust baked to a golden perfection. Glazed berries adorn the creamy lushness of this classic and expertly-made, temperamental confection. The finishing touch – a delicate chocolate square imprinted with the pastry chef's signature.
Wait. Is that a mouse? It is! And it is chocolate covered! A sugar cookie base with a baked almond crème center and chocolate ganache coating, this little gem warms the heart, begs a smile and melts in the mouth. Choosing a delightful caramel-topped éclair for now (and picking up a chocolate mouse to enjoy later), I sit down with a warm cup of Heart Roaster's coffee to hear the origins of Baron Patisserie.
– a respite from the wet, dreary, Vancouver drizzle.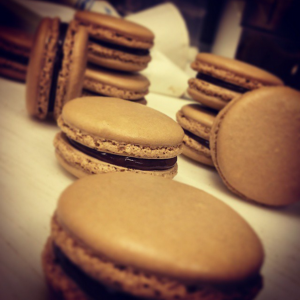 Dispatched by his parents to live in upstate New York at the age of 17, Baron Kim found himself in the back room of his uncle's French bakery elbow deep in dishes and reluctantly entering adulthood. It was here that Kim learned the secrets of combining sugar, flour, and butter to create magic. His uncle, a transplant from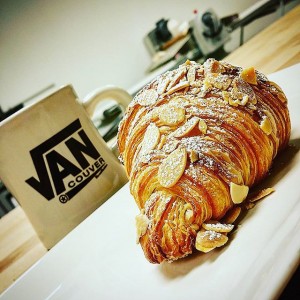 the French city of Lyon who was known for his passionate temper-tantrums as much as for his generous and frequent embraces and thick French accent, is the unofficial inspiration for Kim's charming little patisserie.
After years in New York and a growing relationship with Baldwin, Kim was ready to make a change. When his parents retired to Vancouver, a city he had never visited, he decided to try his luck at opening a shop in this new town he'd call home. Surrounded by other professional businesses and an affluent local community, Columbia Tech Center seemed an ideal location for his upscale French Patisserie.  It is this community, in fact, which has really helped the business to grow.
"We have awesome neighbors.
The community here is very supportive"
"We haven't done any traditional advertising. While we do have Facebook and Instagram, most of our business comes by referrals and word of mouth. Our neighbors, Geriatric Dental, Cascade Family Medicine and Oasis Dental, visit us often and send their clients. We have awesome neighbors. The community here is very supportive," says Baldwin.
So supportive, in fact, that Kim is enjoying a booming business. He currently has 3 wholesale accounts and sells at least 65 croissants and 200 or more pastries each day. Three months after opening, he and Baldwin are ready to hire help. An extra set of hands would allow the couple to add more wholesale accounts and, hopefully, take on a few catering clients.
Currently, a dedicated Kim arrives at the shop at 2 am and then greets his first wholesale customer at 5 am. After filling any orders, he then creates the pastries du jour. Besides their superb Signature Almond Turc, one is generally assured a flaky, buttery croissant. Everything else in the display case changes depending on his mood and available ingredients, which leads to an ever changing daily menu. And this is how Kim likes it.  "Call ahead!" he says. He is happy to make any of his delicacies for his patrons and, with a bit of notice, he will do just that. It is one of the charms of working for himself, he says, "I like that I can make what I want."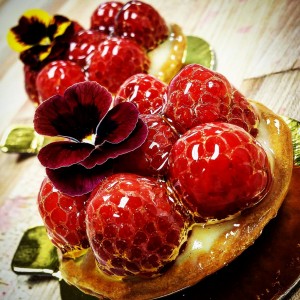 "When my customers are happy,
I am happy." 

Currently, all pastries are made from scratch, in house, every morning, with the exception of some of the delightful fruit jam fillings. But they are working on that, too. "We hope, as the business grows more successful, that we can incorporate our own house-made fillings. Ideally we would like to partner with a local grower – or buy land ourselves – ensuring that the freshest seasonal produce is used to create our own, one-of-a-kind fillings and jams," says Baldwin.
Eventually, Kim hopes to be able to leave the business in the hands of a responsible daily manager so that he and Baldwin may see more of the world. Top of the list? "France, of course!" he laughs. "This is a French bakery after all."
"For now, knowing that I can pay the bills, eat good food, and have happy customers; that is what makes me happy. When my customers are happy, I am happy," says Kim.
Five Star Yelp reviews can't hurt, either.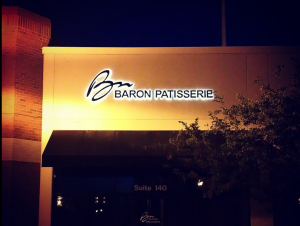 For store hours and more information about
  
Photo Credit: @bkm321