Sometimes it is too hard to eat well and keep it healthy. We all have the best of intentions, but eventually, real life inserts itself and we just run out of the determination we need to wake up early, prep fresh food, and give our bodies the healthy sustenance it craves. Preparing fresh meals every day takes too long and ain't nobody got time for that.
That's when Freshii saves the day. Freshii fuels your healthy lifestyle by serving food that is deliciously nutritious and made for active people leading busy lives.
To learn more about this fast-growing, fast-fresh brand of restaurants, ­(Freshii opened their first 100 locations at a pace faster than Subway, McDonald's and Starbucks) we sat down with Doug Gillespie, owner of six Freshii franchise stores in Portland and Vancouver, to find out why he wants to be in the restaurant business.
"Guests are often surprised by our diverse menu.
                                          We offer a lot of variety: something for everyone"
"Actually, I don't want to be in the restaurant business. I want to be in the Freshii business," says native Vancouverite, Gillespie. "For me, it wasn't about selling cupcakes or donuts or burgers to make money, it was this brand- Freshii- I fell in love with. Freshii offers real food to people. It is not fried or highly-processed and there are no additives or preservatives in the dressings that we make in-house. We use whole grains, brown rice and pressed juices.
 "Most of our guests are busy professionals who lead active lives and who also want to be healthy. They come in multiple times a week, or even every day, because we provide nutritious food quickly and on the go," explains Gillespie. "Otherwise, if they are looking for a quick bite to eat, it is unlikely to be a very nutritional option.
And yet, many people still don't know what Freshii is.
"Guests are often surprised by our diverse menu. We offer a lot of variety: something for everyone, like our meal plans," says Gillespie.
One box contains three meals and two snacks. All are customizable, so if you are trying to lose weight, or maintain weight, or gain weight, or are gluten-free, you have options. The juice cleanses are also really popular. Freshii prepares everything; you just stop in and pick it up.
"…you have to start making positive changes.
                         They don't have to be hard changes…"
"For longevity of life and for quality of life, you have to start making positive changes. They don't have to be hard changes, but I think you see the benefits immediately even when making just little changes, like not drinking soda and instead drinking water, or not eating fast food for a week and instead eating grains and produce," says Gillespie.
In a lot of ways, this is real food that you would prepare at home, but Freshii is able to engage exciting flavor combinations, delivered to their customers in a compostable or other environmentally-friendly container. Freshii may not be as cheap as the dollar menu at some fast food chains, but Gillespie believes that many people understand the value of his premium product and the benefit of leading a more nutritious life.
One guest told Gillespie about trying to recreate his favorite menu item, the Teriyaki Twist bowl, at home. He almost prevailed in emulating the flavor, but after two hours of effort and even more expense, he decided Freshii was the better deal.
A younger Gillespie wanted to be an NFL star, but as ten-year-olds often do, he grew up. After graduating from WSU Vancouver, he landed a comfortable IT job at a software company but dreamed of owning his own business or working at a startup.
"The IT job turned into a sales and client relations position, which was largely relationship based. I had to be aware of everything that was going on and in control. I felt like I was running my own business and really enjoyed it," says Gillespie, and that experience gave him the confidence to voluntarily branch out on his own and try a hand at starting his own business.
"… and said 'I got laid off!' with a big ol' smile on my face."
"Not quite. I was forced into it when the company downsized. I remember that it was a Friday and, when I got home, I was holding a pizza. I handed it to my wife and said 'I got laid off!' with a big ol' smile on my face. What I really needed was to be booted out of a comfortable job. It's not cool to say that you got laid off, but it happened to me and then it turned into this," gestures Gillespie. "About six months later, I signed with Freshii and, six months after that, we opened the first store."
The first store was in Grand Central, the second in Salmon Creek, and the Columbia Tech Center (CTC) location was the third.
"To be honest, CTC probably would have been my first choice because it is in my neighborhood, and because it serves a higher-end demographic with professionals from Fisher Investments, Banfield Pet Hospital, Clark College, and all the other businesses here. It really is just a natural fit for us and who our guests are," says Gillespie. "We really enjoy working with the other tenants and PacTrust. Our neighbors here have been amazing."
"I had to quit coaching my kids' baseball teams"
But starting your own company, franchise or otherwise, is no picnic.
"Probably the biggest sacrifice in opening the store was leaving the house before my wife and five kids got up in the morning, then coming home after they were asleep at night; like every day. I was working open to close for more than a year," says Gillespie. "Also, I had to quit coaching my kids' baseball teams and I missed going to the ballpark with my neighbors and people in the community and just watching the kids play. I got to get back into that last summer, finally. I always knew that it would be a temporary sacrifice and so that is what made it bearable."
Making sacrifices, though, often leads to great rewards, like self-actualization.
"We get so scared because we don't believe in our own abilities.
                        If you want something, go and get it."
"When I worked for a different company, I felt so limited in my abilities. I just didn't know what I could do or couldn't do. Now, going thru something like this and being forced to not only make decisions, but to research everything, to understand contracts and leases and food sourcing and insurance and hiring and everything else, I now feel like I can do anything," says Gillespie. "We get so scared because we don't believe in our own abilities. We are afraid of the unknown- that something might go wrong- but now I feel like I can handle any of this and also pick up other things. I believe I can do it. And that is what has changed the most in me.
"If you want something, go and get it. That has easily been the biggest lesson for me and what I want to teach my children. I want them to learn that, whatever they want to do, they are capable of doing," says Gillespie. "Everyone has unique capabilities but, if you want something, it just takes effort and commitment and the belief that you can get it done. And you can get it done.
Get it done. Fast and Fresh. Eat and Energize. That is the Freshii way.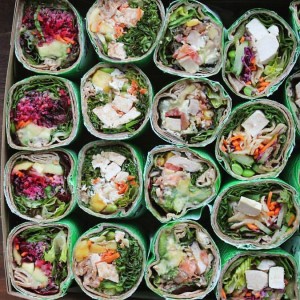 You can change the world one salad at a time! 🌍Proceeds from the Zen Salad go towards building school kitchens and vegetable gardens in developing communities worldwide.