As the rains set in, our hale and hearty food trucks still come out to serve up delicious food.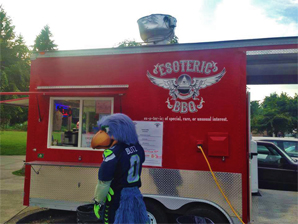 To help stave off the fall chill, Esoteric BBQ has added two new items – a smoked shredded chicken in coconut curry sauce topped with a raspberry orange drizzle and a burrito with sauce-smoked black beans, pineapple jasmine rice, broccoli slaw and Awesome sauce wrapped in a flour tortilla. Come taste for yourself!
Other good news!! Ingrid's is adding Monday evening to her schedule so grab some dinner on your way home from work. You'll be glad you did!
Here's the line-up for this week:
Monday, November 9
4:30pm – 7:30pm
Ingrid's GoodStreetFood – Mediterranean
Tuesday, November 10
11am – 3pm
Nellie's – Breakfast, coffee, lunch & snacks
Wednesday, November 11
9:30am – 1pm
Hello Waffle – Waffles
11am – 2:30pm
Ingrid's GoodStreetFood – Mediterranean
4:30pm – 7:30pm
Ingrid's GoodStreetFood – Mediterranean
Thursday, November 12
11am – 2:30pm
Esoteric BBQ – BBQ
Friday, November 13
11am – 2:00pm
Getta Gyro – Greek