Huzzah! Huzzah! Hello Waffle will be back at the food truck site this Saturday, October 31 from 8am – noon so start your Halloween off right with a good breakfast! See the map below to find the spot.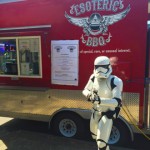 There are still two days left of this work week so please think about eating lunch at the food trucks.
Esoteric BBQ is here today (Thursday, October 29) and Getta Gyro will be here tomorrow (Friday, October 30). Stop by – you (& your stomach) will be glad you did!
Thursday, October 29
11am – 2:30pm
Esoteric BBQ – BBQ
Friday, October 30
11am – 2:30pm
Getta Gyro – Greek