10 Questions With Banfield Pet Hospital
Banfield Pet Hospital, the largest veterinary practice in the world, moved its corporate headquarters and 650 of its associates to Columbia Tech Center this summer. Banfield's corporate headquarters or Central Team Support (CTS) as it's called, supports nearly 950 hospitals, 16,000 associates nationwide and more than 8 million pet visits annually.  We pawsed for a moment with President and CEO Vincent Bradley to see how everyone at Banfield is settling in.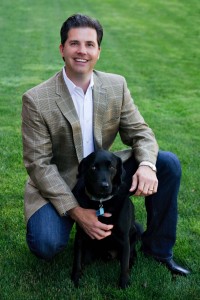 Why was Banfield's Central Team Support (CTS) in need of a new home?
The Banfield veterinary practice began in Portland in 1955 and, in fact, the original hospital is still operating on NE 82nd across from our previous CTS. We really loved being a part of that neighborhood and the Portland community for many years, but we had a strong desire to transition to the open office model for the collaboration it brings. We considered remodeling the original building but, after studying our forecasted growth, we realized the existing campus simply couldn't meet our needs from a capacity standpoint. We needed to find a new home and our size and needs necessitated we build from the ground up.
How did you decide on the Columbia Tech Center community?
We wanted to minimize the disruption, as much as possible, to our current associates so we sought a site that would meet our needs and was within about 10 miles of our previous location. We considered several factors including the number of restaurants within walking distance, the safety of the area, and whether there was strong support from local and state government. We have been quite happy with where we landed and are proud to call Vancouver home. Columbia Tech Center has been a great partner and we look forward to many more wonderful years to come with that partnership.
What are you enjoying most about the new digs?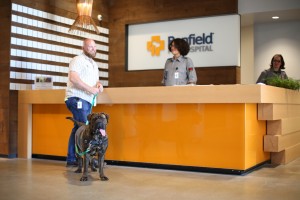 Well, it is very hard to name just one thing! But for me, the "cool factor" is certainly through the roof. I love that, with the help of our building partners, we were able to bring our original vision of an open office environment to life. I love the variety of places to work, to connect, and to collaborate. The spaces are inviting and full of warmth. We have a fantastic bistro that provides great, healthy options for our two- and four-legged associates and is also a great environment in which to hang out. So, whether it is the healthy options in our bistro, the fitness center, or having pets at work, the environment is very much in line with our culture of wellness at Banfield and that of our parent company, Mars, Inc. We feel it really highlights who we are and the essence of our culture.
What amenities for pets are in the new building?
We are in the business of providing fantastic care to pets around the country. Including pets is an important aspect of our workplace – one which we think is a great contributor to wellness. There are doggy water fountains throughout the campus and ramps between floors to allow for the mobility of animals that may be older or have arthritis. There is also a dog park which will be open to our associates and the Vancouver community this fall.
Do you bring your pet to work?
Yes! My dog, Bingo, is sleeping on my foot right now! He is by my side every morning when I get up and get ready for work. He literally follows me around the house: to get coffee, to get breakfast, go upstairs to get dressed and then, when I am ready to leave, he is at the door waiting, ready to go to work.  
How does having pets in the workplace create an improved work environment?
At Banfield, we already have an informal and collaborative culture and I think pets help to make it more so. Bingo is a part of my family so it reduces my stress level having him with me.  I take him out for walks throughout the workday which lowers my stress level and helps my wellness. And, frankly, dogs are fun. When you walk around our campus, you see associates greeting one another. People will first say "Hi" to Bingo, then say "Oh, hi, Bingo's Dad," and will get on the floor to pet him and hang out. Sometimes I'll walk through the building and see two or more associates on the floor and they are collaborating while hanging out with their dogs. How cool is that?
Have you experienced any difficulty with the integration of pets onto the campus?
We are not just pet-friendly but also a pet responsible workplace. In addition to the amenities for our pets, we have enacted policies which exist to create an environment that is welcoming both for our associates and our four-legged friends. For example, if a dog is on a green leash, it means there are no concerns around approaching the dog by an associate or another dog. A yellow leash means the dog is approved to be on campus, but you may want to get permission from the owner before you approach the dog or feed it a treat.
It seems that allowing pets in the workplace is becoming more popular, but many employers are concerned about potential conflicts. What would your advice to them be?
It is important to have a thoughtful approach for letting pets in the office. I would encourage employers and employees alike to read our Pawrometer survey. It contains data to support what we know about how pets influence our wellness and stress levels and how that relates to having pets in the workplace. Having said that, there are several things we would recommend to ensure that the pets and associates have a good experience. Two of the main items would be the leash program and conducting professional pet assessments. I think, at this point, we have nearly 200 pets who have gone through the behavioral assessments and been approved to be on campus. Our website, Banfield.com/petresponsible, talks more about the program and policies we have in place here at Banfield. 
How does Banfield become a part of the community?
The Banfield Foundation is one of a number of areas where we believe we are making a great impact on the communities where we work, live and play. We enjoy being a great community partner here in Vancouver and across many communities where we have hospitals – and even in areas where we don't have hospitals. We have a strong relationship with the Humane Society for Southwest Washington, which is a fantastic organization. We help support their efforts through their thrift store ReTails, the Banfield Foundation and the volunteer commitments of our associates. We also helped build the Freedom Fence, an off leash dog area on the Humane Society campus. We continue to work with other partners like Share, where we pack backpacks for local school children, and Dakota Memorial Dog Park where we, quite literally, were on poop patrol. In addition, through our partnership with the American Humane association and the Red Star Rescue Rig, several of our associates traveled to West Virginia and helped care for nearly 2,000 pets that were impacted by the recent floods. It's not just a charitable effort; it's the way we do business.
Banfield is now the largest veterinary practice in the world. To what do you attribute your success?
Our focus is to make a better world for pets and we do that through our associates and our hospitals. We are a general veterinary practice with a particular focus on preventative care which has proven to be so important for animal and human health alike. Our reach and impact across more than 8 million pets last year, in pet visits, really demonstrates that what we are doing and how we are doing it resonates with pet owners across the United States. I am really proud of the work we've done and because of the quality of service to our clients, we've continued to grow. We look forward to our continued growth and evolving our practice to meet the needs of the millions of pets we have the privilege to care for and serve.
Want to watch a time-lapse video of the
Banfield Central Team Support Construction?
Click the Icon: