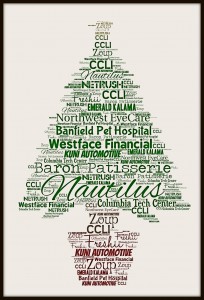 As the year comes to an end, here's a look back at highlights from the Columbia Tech Center (CTC) Featured Tenant series. Many thanks to everyone who gave of their time to share a bit about themselves and their company with the CTC community.
In 2016, we discovered that Baron Patisserie is the place to find delicious and beautiful confections, revealed how NetRush passionately contributes on the Amazon marketplace, and explored how an indecisive diner can find their perfect soup at the sample-centric Zoup!
We learned how Emerald Kalama touches our everyday lives, that at Freshii active people leading busy lives can fuel a healthy lifestyle and, from CCLI, the importance of copyright in the Christian music community.
Northwest EyeCare Professionals taught us that 80% of learning comes through our visual system and Banfield Pet Hospital's Central Support Team showed us their beautiful, new, pet-friendly building.
Westface Financial announced that they are here for all of your college financial planning needs, and Kuni Automotive shared how they are a business that is all about people. In our last feature, we congratulated Nautilus on the success of their latest award-winning equipment designs.
CTC tenants and neighbors have come to know each other and grow together as a community in 2016, a trend that hopefully will continue for years to come. Although plans are to continue highlighting our amazing tenants and sharing what they are doing with the CTC community, moving forward into 2017, the feature articles will be published quarterly instead of monthly.
Your feedback is valued. If you're a CTC tenant and are interested in being featured on our website, please email us at CTCUpdates@PacTrust.com. We'd love to hear from you!